MISCONCEPTIONS
The Truth About Prince Albert's Piercing, Queen Victoria's Wedding Dress, and Other Victorian Era Misconceptions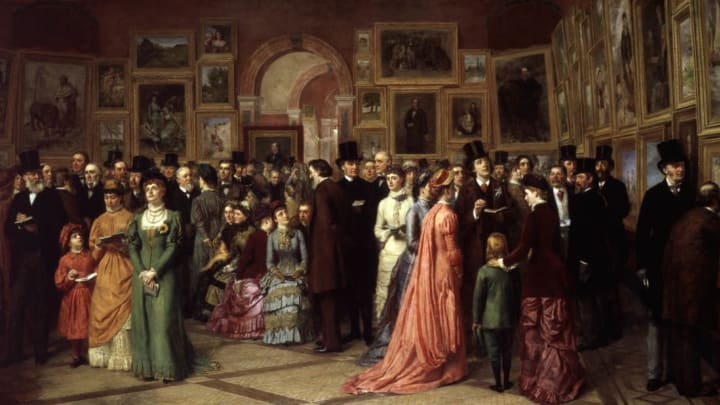 A Private View at the Royal Academy by William Powell Frith, 1883. / Royal Academy of Arts, Wikimedia Commons // Public Domain
Considering that Queen Victoria spent 63 years on the throne—making her the UK's second longest-reigning monarch, behind Queen Elizabeth II—it's no wonder that a certain mythos has cropped up around her. According to it, she was a staid, prudish, humorless ruler who wore black for decades to mourn the death of her husband, Prince Albert.
Though that last part is true, the stuff about her personality is more than slightly inaccurate. And on this episode of Misconceptions, Mental Floss host Justin Dodd is unearthing all the evidence to prove it—including the diary entry Queen Victoria wrote about her wedding night, and her and Albert's tradition of exchanging racy paintings as gifts. (You'll also find out why Prince Albert became the namesake for the Prince Albert piercing.)
But not all Victorian era misconceptions directly involve the ruling couple. Did corsets regularly make women collapse onto fainting couches? Did "sexy" table legs really cause a stir? For answers to those and other pressing questions, click play on the video below.
For more fascinating videos, subscribe to the Mental Floss YouTube channel.