The World's Top 10 Places to Live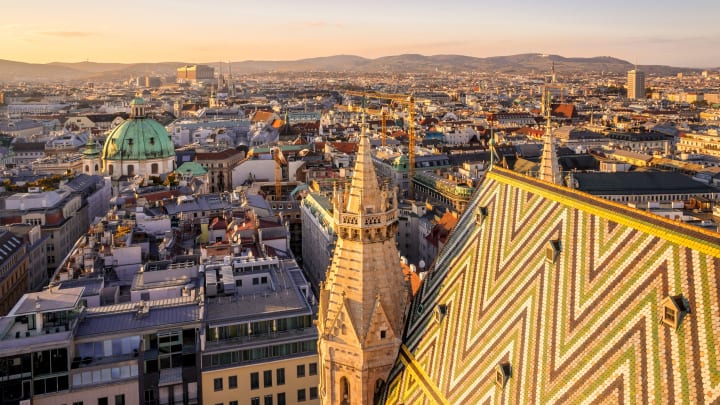 Vienna, Austria, is the best place to live. / Pintai Suchachaisri/Moment/Getty Images
Figuring out the world's best place to live can be tricky. One method for sleuthing out the top spots is the Global Liveability Index [PDF], an annual report and ranking of the quality of life in 173 cities around the world. The index reviews criteria from each city in five categories: stability, healthcare, culture and environment, education, and infrastructure. Cities are rated and the total scores are calculated to rank the cities from best to worst quality of life. 
Rankings change annually, as some cities' rankings rise and others drop. This year's most liveable cities can be found in Europe and Canada, as well as one in Australia and one in Japan. 
1. Vienna, Austria
Vienna, Austria. / brandstaetter images/GettyImages
Nestled in the northeastern corner of Austria along the banks of the Danube River, Vienna is a city where modern innovation and historic legacy go hand in hand. 
Those who live in Vienna have access to a world-class public healthcare system, an excellent education system, and an extensive network of public transportation. The "green belt" circling the city offers residents 46 square miles of green spaces, walking trails, and parks.  It's also known as the "City of Music" for being the birthplace of classical composers Beethoven and Mozart, and for its current world-class scene. The city also features impressive baroque architecture, famous Viennese coffeehouses, and a palpable cultural vibe. 
2.  Copenhagen, Denmark
Copenhagen, Denmark. / Chris Jackson/GettyImages
It's no surprise that Copenhagen, Denmark, is in second place on the Global Liveability Index for 2022—it's considered one of the happiest cities on Earth and one of the safest cities in the world.
Set on the straight of Øresund in eastern Denmark, Copenhagen boasts a quality education system and low unemployment rates. The city puts pedestrians and cyclists at the heart of all city planning while maintaining a wide metro system for more distant commutes. 
Thanks to Copenhagen's entrepreneurial spirit, the city features an impressive array of independent shops, restaurants, and other creative businesses. Residents also enjoy world-class museums and galleries, quaint cobblestone streets, idyllic canals, and a thriving cultural and restaurant scene. 
3. Zürich, Switzerland (Tie for Third)
Zürich, Switzerland. / Christian Ender/GettyImages
Located in the German-speaking region of Switzerland, Zürich offers its inhabitants an excellent quality of life. It's a global hub for finance, banking, and other industries, giving it a high score when it comes to employment opportunities. The city also holds some of the highest marks in education, safety, and housing availability. Its residents benefit from one of the best healthcare systems in the world. 
When it comes to the environment and sustainability, Zürich has an impressive record. The city leads the world with innovative technology and initiatives, visible in the city planning and infrastructure and the vast networks of bike and public transportation networks. Zürich also impresses with its rich cultural scene with a plethora of galleries, museums, festivals, farmers' markets, and outdoor and indoor concerts, available for everyone to enjoy. 
3. Calgary, Canada (Tie for Third)
Calgary, Canada. / George Rose/GettyImages
Calgary, Canada, is a modern, cosmopolitan city tucked between the magnificent Canadian Rockies and the Canadian Prairies. The city was once known as "Cowtown" because of its important role in cattle ranching. 
When it comes to Global Liveability Index ratings, the city scored high in education, healthcare, and infrastructure. And, highlighting the city's trend toward renewable energy, Calgary's commuter rail system—the CTrain—is entirely powered by wind energy. 
The city's role as an important economic and financial sector provides many employment and business development opportunities. An equally important factor is the access to a wide range of sporting events, festivals, and outdoor activities throughout the four seasons of the year. And with 41 percent of people living here between the ages of 20 and 44, the city has a young, vibrant pulse.
5. Vancouver, Canada
Vancouver, Canada. / Christopher Morris - Corbis/GettyImages
Vancouver is a strikingly beautiful city, surrounded by majestic mountains on one side and the Pacific Ocean on the other. It's a hub of international trade that hums with a casual seaside vibe. With a year-round schedule of festivals, events, and outdoor activities, and one of the world's best culinary scenes, Vancouver is a mecca for its friendly, culture-loving residents. 
Vancouver is also considered to be one of the "greenest cities" in the world. Its people prioritize sustainable urban planning and environmental initiatives. And along with universal healthcare and economic stability, Vancouverites are treated to a rich cultural tradition in the city. 
6. Geneva, Switzerland
The United Nations office In Geneva. / Johannes Simon/GettyImages
The second Swiss city to make the list, Geneva is much more than the mountains, chocolate, and cheese the region is commonly known for. The physical location is gorgeous: The city is built on the shores of the beautiful Lake Geneva. 
Geneva is also an important global financial center. It's sometimes referred to as the "peace capital of the world" because there are at least 200 international organizations based there, including the Red Cross and the United Nations. It's an expensive city to live in, but excellent job opportunities and housing options are plentiful. The historically rich and diverse city also boasts beautiful cultural venues, events, and festivals. 
7. Frankfurt, Germany
Frankfurt, Germany. / Sean Gallup/GettyImages
The residents of Frankfurt get the benefits of two worlds. With a skyline said to resemble New York City and its importance as a commercial and financial powerhouse, Frankfurt is sometimes referred to as "Mainhatten." But the city also features a large network of parks and bike paths, gardens, and museums, where people can escape the hustle and bustle of their daily lives. 
Frankfurt, built along the Main River in western Germany, is an international hub with world-class shopping, restaurants, and cultural events. The city hosts some of the biggest trade shows and conventions in the world. Frankfurt also ranks high when it comes to safety, employment opportunities, healthcare, and education. 
8. Toronto, Canada
Sunrise in Toronto, Canada. / Gary Hershorn/GettyImages
Toronto, the capital of the province of Ontario, is a bustling Canadian metropolis. Its world-famous waterfront skyline in Toronto is anchored by its recognizable landmark—the CN Tower. The city is a global financial hub and is as one of the most multicultural cities in the world.
The city of Toronto offers residents access to some of the best schools in Canada, a useful and enjoyable network of bike paths and parks, and quality healthcare. And with a year-round calendar of events featuring sports, fashion, music, cinema, art, and an epic food scene, the people of Toronto always have something to do and somewhere to go.
9. Amsterdam, Netherlands
Amsterdam is known for its canals. / Dean Mouhtaropoulos/GettyImages
Idyllic canals, a rich café culture, and green spaces are all part of living in Amsterdam, the capital city of the Netherlands. Residents see it all on their daily bike rides—68 percent of the population use them to commute. The city prioritizes bike and pedestrian infrastructure, while still offering an excellent public transportation system. In the categories of education, healthcare, and housing availability, the city ranks among the best in the world. 
It's a big city with a small-town feel, and the work/life balance in Amsterdam is one of the best in the world. Every resident of Amsterdam has access to the "13 months" salary—one month of holiday leave for every 12 months of work. And they have lots to enjoy on their time off! They can visit one of the many clothing, food, or flower markets, walk quaint streets, and across picturesque canals or take a break at one of the many cozy cafés in the city. 
10. Osaka, Japan (Tie for Tenth Place)
Street food in Osaka. / Zhang Peng/GettyImages
Once a part of the ancient trade route known as the "Silk Road," Osaka still has an important connection to Japanese culture and economic life.
Only three hours by train from Tokyo, Osaka is a charming city with an easy-going feel to it. It's a foodie's paradise, and has been dubbed the street food capital of Japan. Shopping is excellent with plenty of outlet malls, shopping streets, and the world-renowned electronic district of Nipponbashi. The people of Osaka reap the benefits of a city full of food, fun, and culture while benefitting from top-notch health care, education, and urban safety.
10. Melbourne, Australia (Tie for Tenth Place)
Melbourne, Australia. / Scott Barbour/GettyImages
There are many reasons that this eclectic coastal city in southern Australia is so liveable. Its artistic vibe, rich history, and beautiful beaches only capture a piece of the magic of Melbourne. 
The city is sometimes known as "the sporting capital of the world" because of the high number of international athletic events held there. Add to this a plethora of charming cafés, restaurants, and neighborhoods that reflect the cultural diversity of the city. And to make Melbourne even more liveable, residents also benefit from its perfect scoring educational system and high-quality, affordable healthcare, plus excellent infrastructure and public transit system.