8 Expert Tips to Make Thanksgiving Easy for First Timers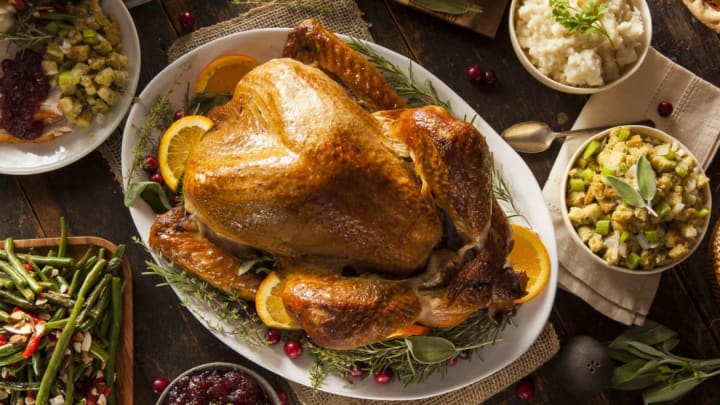 Use these tips to avoid Thanksgiving Day disasters. / bhofack2/iStock via Getty Images
Amid the ongoing novel coronavirus pandemic, more Americans will be celebrating Thanksgiving at home this year than usual. According to AAA Travel's predictions, holiday travel will decline at least 10 percent for Thanksgiving 2020. The last decrease of this scale was during the Great Recession in 2008. That also means many people will be tackling cooking a Thanksgiving meal for the first time—without the crutch of having more experienced family members close by or being able to focus on a single dish during a friends-giving potluck. Even if they join a Zoomsgiving, behind the screen celebrants will need to whip up a festive feast. Here are a few tips and tricks that will help you prepare a great meal—and make it your own.
1. Make a plan—and do whatever you can in advance.
"A lot of Thanksgiving is planning and figuring out what you can make in advance," says Amy Traverso, senior food editor at Yankee magazine and co-host of the national public television series Weekends with Yankee. Proper planning can help you avoid a Thanksgiving Day disaster.
One of the biggest pitfalls for first-time holiday meal cooks is not properly anticipating oven needs. It's easy to find yourself an hour before the meal with a pie, casserole, and turkey all needing to bake at different temperatures—and no space left in your single oven. To combat this dish collision, cook and prepare as much in advance as possible.
Cooking the turkey is a day-of event; however, many of the sides can be prepared in advance, including stuffing, green beans, and sweet potato casserole. While the turkey is resting, which it should do for around 30 minutes, the side dishes can go in the oven to reheat.
Like turkey, mashed potatoes should be prepared day-of; luckily, it's a stovetop dish—no oven needed. Still, home chefs can get a head start even on this process by peeling and dicing the potatoes the day ahead and storing them in water in the fridge overnight.
2. Know ahead of time when you want to sit down to Thanksgiving dinner.
Most Americans eat their holiday meal between 1 p.m. and 5 p.m. Decide what time you want to eat and work backwards so your dishes can arrive on the table at the same time.
3. If you're having turkey, get at least a pound per person.
Thanksgiving earned the nickname "Turkey Day" for a reason. The U.S. Poultry and Egg Association estimates that Americans consume 46 million turkeys at Thanksgiving.
However, in 2020, you may not want to roast a whole turkey at all. "We all need to give ourselves permission to simplify our mission this year," Traverso says. "Meat and three sides are just fine if you're not having a big gathering. Or give yourself permission to make a roast chicken instead, or roast a turkey breast and not worry about the whole bird."
Whether you decide on a turkey breast or whole bird, estimate 1 pound to a pound-and-a-quarter per person. After you've found the perfect centerpiece for your table, it's time to begin your prep.
4. Leave yourself enough time to defrost and prepare your turkey.
More planning comes into play when you're defrosting or seasoning a turkey. Frozen turkeys will need to thaw. Approximate thawing the bird 24 hours for every five pounds, always in the refrigerator—not on the counter. (If you're reading this on Wednesday night and haven't taken your bird out of the freezer yet, don't worry: Just follow Butterball's instructions here.)
Frozen turkeys come pre-seasoned to some extent, but fresh turkeys will need a flavor boost. Traverso recommends a dry cure, for which you rub spices—as simple as salt, pepper, and any herbs and spices you like—on the bird's skin a few days in advance. Here's Traverso's tip for crispy skin: Allow the turkey to sit uncovered overnight in the refrigerator. Moisture will evaporate out of the skin, making it nice and crispy once it cooks. After that, all that's left is to carve the turkey. But even with these tips, there's a chance your best laid plans could go afoul.
5. Have helpline info nearby.
Having a turkey emergency? The Butterball company offers a helpline to answer all your questions online or over the phone, and the National Turkey Federation has a Thanksgiving 101 tutorial for newbies.
6. Simplify your sides.
Traverso advises prioritizing and cutting the fluff from your menu this year. "Think back to childhood and dishes that meant the most to you," she says. "Make those and be flexible about the other stuff."
7. Never cook stuffing inside the bird.
If you decide stuffing earns one of those nostalgic places on your menu, bake it outside the bird. Leaving it inside can alter the turkey's cooking time, and leave the bird underdone inside and overdone outside. Baking it inside the turkey can also increase exposure to salmonella or E. coli. A cornbread stuffing recipe is the simplest to start with, and you can use store-bought cornbread to skip at least one step. Simplicity is the name of the game this year.
8. Skip complicated recipes—and don't be afraid to go with store-bought over homemade.
If you're not a baker, for example, opt for drop biscuits instead of complicated breads or rolls. If pie crust intimidates you, buy a pre-prepared one or make a graham cracker crust. Traverso recommends a combination that's as easy as pie: a pre-made graham cracker crust, filled with pumpkin ice cream, and topped with whipped cream and a sprinkle of nutmeg.
"We're all going off script this year," Traverso says. "If you don't want to have a traditional Thanksgiving menu, don't. The point is to be in the spirit of the holiday and be together with whomever we can be. A table groaning with food is probably not the thing going to make you feel grateful, loved, and happy to be where you are."