14 Fiendish Facts About Elvira, Mistress of the Dark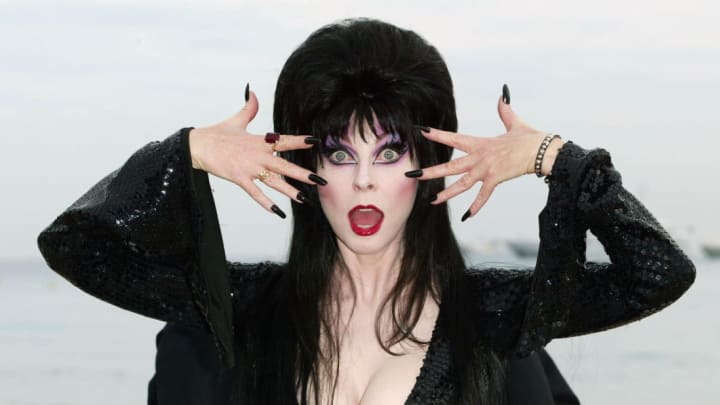 Cassandra Peterson, better known as Elvira, poses during the 2003 Cannes Film Festival. / Photo by Evan Agostini/Getty Images
With 40 years of playing Elvira under her beehive, Cassandra Peterson is showing no signs of slowing down. The character hasn't changed much since her 1981 debut, but Peterson, who turned 70 in September, has a remarkable knack for adapting to changes in how we watch horror movies. She was a staple of cable television Halloween programming throughout the '80s; this month, "Dr. Elvira" is the face of Netflix's annual Netflix and Chills event.
Peterson has gone from a $300-per-week gig hosting schlocky B-movies on a local TV station to heading a multi-million-dollar international licensing empire, starring in crowd-pleasing live shows and a pair of feature films along the way. Not every endeavor has been successful: Peterson's attempt at a primetime sitcom never got past the pilot stage because, according to Bloody Disgusting, "CBS went crazy over the immense usage of boob and sex jokes." But through it all, Elvira has remained the undisputed Queen of Halloween. And fans haven't tired of her shtick any more than Peterson has. Her newly released autobiography, Yours Cruelly, Elvira, was an instant New York Times bestseller.
Here are 14 things you should know about the wisecracking, tassel-twirling Mistress of the Dark.
1. Cassandra Peterson saw her first horror movie—William Castle's House On Haunted Hill—when she was just a kid.
In an interview for David Weiner's 2019 documentary In Search of Darkness, Peterson recalled seeing the 1959 Vincent Price shocker when she was very young, maybe 7 or 8 years old, and being "gobsmacked." She says she was "repelled and fascinated at the same time" and had nightmares for weeks, but there was no going back. Soon she was a die-hard Price fan, a Famous Monsters of Filmland reader, and a collector of Aurora monster model kits.
2. Cassandra Peterson credits a terrible childhood injury with setting her on the path to creating Elvira.
Peterson suffered horrific, near-fatal third degrees burns after overturning a pot of boiling water when she was 18 months old. Treatment involved extensive skin grafts, and the accident and surgeries left her with permanent scarring that made her a target of childhood bullies. "I totally think that accident paved the way for me to become Elvira," Peterson told the Shondaland website in September. "I literally adopted another persona who had all the qualities that I wanted but couldn't get on my own."
In her new autobiography, Peterson writes that she was drawn to the horror genre as a child because she "felt like a misfit," and that "in a weird, roundabout way, that accident led me to my love of horror and got me started on this path. I look at it as a good thing."
3. Cassandra Peterson became a Las Vegas showgirl when she was just 17 years old.
Cassandra Peterson attends Wizard World Chicago Comic Con in 2014. / Daniel Boczarski/Getty Images
When Peterson was a teenager, one of her idols was Ann-Margret, the Swedish-American singer, dancer, and actress who co-starred with Elvis Presley in 1964's Viva Las Vegas. During a family vacation, a 17-year-old Peterson, who dreamed of being a showgirl like Ann-Margret's character in the movie, talked her parents into letting her attend a performance of the iconic musical revue Vive Les Girls. The dance captain noticed Peterson in the audience and invited her to audition for the show; when Peterson revealed her age, her parents were asked to sign a release, and the audition proceeded. Peterson got the job and became one of the youngest showgirls in Las Vegas.
"I wasn't able to enter the hotel, except through the back through the kitchen," Peterson explained in a 2017 interview with Vulture. "I couldn't drink or gamble or go in the casino, but I could dance in a G-string onstage."
4. Cassandra Peterson was an extra in a James Bond movie.
When she was working as a dancer with Vive Les Girls, Peterson and several of her colleagues served as extras in the 1971 James Bond movie Diamonds Are Forever. Peterson appears briefly in a scene with Leonard Barr, who played stand-up comic Shady Tree.
5. Cassandra Peterson once received some sage career advice from Elvis Presley.
Much has been made of Peterson's "sort of a date" with Elvis Presley when she was 17 years old, but the King's greatest impact on her life came in the form of career guidance. According to Peterson, Presley told her to "get the heck out of Las Vegas and pursue a singing career." Peterson took Presley's advice. She started singing lessons the next day, and when her contract expired with Vive Les Girls, she went to Europe to be a singer. One of her gigs was singing with an Italian pop band called The Latins 80.
6. Cassandra Peterson had an uncredited role in a Federico Fellini film.
Peterson met the legendary director on the street while he was shooting his semi-autobiographical 1972 film Roma. "He thought I looked like his wife Giulietta Masina when she was young," Peterson told Vulture, "and asked me if I wanted to be in the movie."
7. Cassandra Peterson credits John Paragon, the actor who played Jambi on Pee-wee's Playhouse, with helping her create Elvira.
Cassandra Peterson, a.k.a. Elvira, performs in her "Danse Macabre" show at Knott's Berry Farm in Buena Park, California in 2016. / Barry King/Getty Images
Peterson eventually found her way to Los Angeles, where she joined the legendary comedy improv group the Groundlings, whose alumni list also includes Phil Hartman, Lisa Kudrow, Melissa McCarthy, Kristen Wiig, and Will Ferrell. It was during her time with the Groundlings that she developed the Valley Girl character who would eventually become Elvira. Peterson has credited fellow Groundlings member John Paragon, who would later play Jambi on Pee-wee's Playhouse and co-write Peterson's 1988 feature film Elvira: Mistress of the Dark, as being instrumental in shaping Elvira's persona. "[F]rom the beginning, we developed this character together," she told Los Angeles Daily News in September. "Our brains became one big Elvira brain. His help was absolutely invaluable. It would not have been the same character had John not been around, that's for sure."
Peterson also met Paul Reubens, a.k.a. Pee-wee Herman, in the Groundlings. Peterson later appeared in Pee-wee's Big Adventure as Biker Mama, and the two are still good friends.
8. Elvira was originally intended to be Vampira's daughter.
In 1981, producers at Los Angeles-area KHJ-TV wanted to revive The Vampira Show, which the station had canceled way back in 1956. Producers brought in Maila Nurmi, the actress who played the Morticia Addams-inspired horror hostess and still owned the character, but she was in no condition to reprise her classic role. Producers decided to hire a young actress for the part and offered Nurmi an executive producer credit and weekly royalties in exchange for use of the Vampira name. When Peterson was hired for the role, she was told she'd be playing Vampira's daughter.
9. Cassandra Peterson initially conceived Elvira as a redhead in a tattered pink dress.
The look was based on Sharon Tate's character in one of Peterson's favorite movies, The Fearless Vampire Killers. Producers balked, though, insisting the character had to wear all black. With the help of her friend Robert Redding, Peterson came up with Elvira's now-signature look: a black dress with a plunging neckline, kabuki-influenced makeup, and a beehive inspired by Ronettes frontwoman Ronnie Spector.
10. Cassandra Peterson literally pulled the name Elvira out of a Folger's Coffee can.
Cassandra Peterson shows off her new book in 2016. / Noel Vasquez/Getty Images

Peterson was preparing to tape the introduction for her very first show as the new Vampira when KHJ-TV program director Walt Baker delivered troubling news: Nurmi was upset that producers had cast Peterson instead of her chosen successor—singer, dancer, and actress Lola Falana—and would no longer allow the station to use the Vampira name. Producers decided to simply change the character's name, and everyone on set was asked to write a name on a slip of paper and place it in a Folger's coffee can. The name Peterson drew was "Elvira," and The Vampira Show became Elvira's Movie Macabre.
The name change wasn't the end of the dispute between Team Elvira and Nurmi, though. In 1988, Nurmi filed a $10 million lawsuit against Peterson and the show's producers, alleging trademark infringement and unfair competition. The following year, the matter was finally settled when the court ruled in Peterson's favor. You can read the full text of the court's decision here.
11. The man who wrote Michael Jackson's "Thriller" originally wanted Elvira to record the spoken-word segment that was ultimately delivered by Vincent Price.
According to Jed Pitman's 2017 biography The Invisible Man: The Story of Rod Temperton, the 'Thriller' Songwriter, Temperton originally wanted Elvira to record the spoken-word segment of the song. But producer Quincy Jones had a personal connection to Vincent Price, and the actor was offered the gig instead. "If I had to lose out to someone, my idol would be my first choice," Peterson writes in her book. "But I still wonder sometimes how 'Thriller' would have changed the trajectory of my career."
Peterson eventually got a chance to record a similar bit in 2018, when she was featured in German singer/songwriter Kim Petras's single "Turn Off the Light."
12. Cassandra Peterson turned down $10,000 for a Circus of the Stars appearance because of her commitment to animal welfare.
According to her autobiography, Peterson was invited to appear on the show in 1990, with a routine that would have involved "riding and training an elephant." She turned down the offer, which included a $10,000 payday, when she learned of the abuse to which circus elephants are often subjected.
Peterson has long been an advocate for animal welfare. She has worked closely with PETA over the years, and once joined Jane Wiedlin and Belinda Carlisle of The Go-Go's and Rue McClanahan of The Golden Girls to protest a fur show in Las Vegas. In her autobiography, Peterson writes that "[t]he demonstration was such a success that to this day, there's never been another fur convention held in Las Vegas."
13. Cassandra Peterson almost starred in an Elvira sitcom.
Elvira made her feature film debut in 1988 with Elvira: Mistress of the Dark, which was funded by NBC's theatrical division. According to a contemporary report in the Los Angeles Times, the network "had been trying to tag Elvira for a sitcom," but Peterson's Queen B Productions held out for a feature film. The movie didn't do well at the box office and a sitcom never panned out at NBC, but Peterson got another shot five years later, this time with CBS. A pilot episode of The Elvira Show was scripted by SNL veteran Anne Beatts, who also created the high school sitcom Square Pegs, and Katherine Helmond of Soap and Who's the Boss fame was cast as Peterson's co-star. The show never made it to series, but you can watch the unaired pilot online.
14. Cassandra Peterson recently came out as a member of the LGBTQ+ community.
For decades, Peterson has been an ally, a gay icon, and an activist for LGBTQ+ causes. In her autobiography, she reveals that she has been in a relationship with a woman for the last 19 years. The couple kept their relationship quiet for nearly two decades, fearing that fans might reject Elvira if they knew the truth—not so much out of homophobia, but because, as Peterson explained to The Hollywood Reporter in September, "Elvira's a big horndog" and she didn't want to risk the character's reputation as an incurable man-chaser. Peterson reminded her interviewer that she also kept her 25-year marriage to Mark Pierson relatively quiet, for the same reason.