22 Stores That Will Be Closed on Thanksgiving
ajfletch/iStock via Getty Images
In recent years, the Black Friday craze has inched further and further into Thanksgiving. With stores opening as early as 5 p.m. on Thanksgiving Thursday, festive dinners are being overshadowed by shopping frenzies. But there are still some stores that allow workers to stay home and enjoy the holiday. Here is a selection of stores that have confirmed to Mental Floss that they will be closed on Thanksgiving 2019.
1. Costco
The warehouse club has always had a reputation for being good to its employees. This Thanksgiving, Costco's 200,000-plus team members will have the opportunity to spend the holiday with their families (same goes for Christmas and New Year's Day).
2. Dillard's
As in previous years, the physical locations for Dillard's will be closed on Thanksgiving.
3. BJ's Wholesale Club
BJ's Wholesale Club locations will be closed on Thanksgiving, although "BJ's members can seize the savings on BJs.com beginning at midnight on Thanksgiving," a press spokesperson told Mental Floss. Stores open for Black Friday at 7 a.m.
4. REI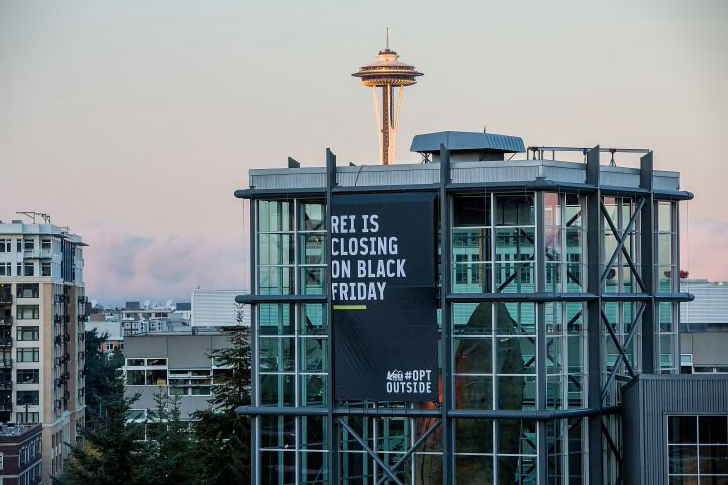 REI locations are once again closed on Thanksgiving as well as Black Friday. But that's not all: In a press release, the company says, "For the fifth time this Black Friday, REI Co-op will close all its stores, process no online payments and pay all 13,000 employees to #OptOutside with friends and family." The company is also asking both employees and members to join in nationwide clean-up efforts, as well as take steps in a 52-week action plan to reduce their environmental footprint.
5. Sur La Table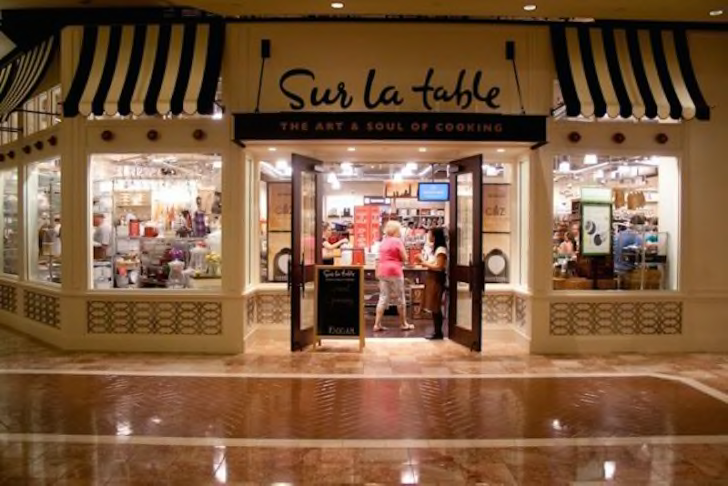 Better make sure you've got all the Thanksgiving Day kitchen appliances and tools you need before the big day; kitchenware haven Sur La Table will be closed.
6. Crate & Barrel
Crate & Barrel employees will again be staying home on Thanksgiving this year.
7. JO-ANN Fabric and Crafts
Your arts and crafts projects will have to wait until Friday: Being closed on Thanksgiving has been a long-held tradition for Jo-Ann's stores.
8. T.J. MAXX
The parent company that owns T.J. Maxx (as well as Marshalls, HomeGoods, Sierra, and Homesense stores) told Mental Floss, "We consider ourselves an Associate-friendly company and we are pleased to give Associates the time to enjoy Thanksgiving with family and friends."
9. Marshalls
Marshalls, like T.J. Maxx, is owned by TJX and will therefore also be closed.
10. Pier 1 Imports
For the past couple of years, Pier 1 Imports has decided to stay closed for the holiday. A press spokesperson told Mental Floss, "Pier 1's store locations will be closed on Thursday, November 28 to allow our associates to spend time celebrating the Thanksgiving holiday with their family and friends. As always, pier1.com will be available on Thanksgiving to help our customers should they wish to shop Pier 1 online that day. Our stores will open at 8 a.m. local time on Friday, November 29."
11. Publix
You'll have to buy your last-minute Thanksgiving fixings somewhere other than Publix. They're always closed three days of the year—Thanksgiving, Christmas Day, and Easter Sunday—a spokesperson told us.
12. Sierra
Sierra stores (formerly called Sierra Trading Post) will once again be closed on Thanksgiving.
13. Barnes & Noble
Barnes & Noble wants its employees to enjoy the holiday with their families (then curl up with a good book).
14. Patagonia
In 2014, when asked why Patagonia stores close on Thanksgiving, a spokesperson responded, "It's a holiday—we're closed!" They'll be doing the same thing this year.
15. Staples
"We need to ensure that our dedicated retail associates, the folks who will be hard at work through Black Friday and the entire holiday season, can spend the Thanksgiving holiday relaxing with their friends and families," Mike Motz, Chief Executive Officer of Staples U.S. Retail, said in a press release.
16. Lowe's
The home improvement giant gives its employees Thanksgiving Day off to spend with their families, but will open at 6 a.m. on Black Friday.
17. Mall of America
The Mall of America will also be closing its doors on Thanksgiving.
18. The Container Store
In 2015, The Container Store posted a statement on its blog explaining why they choose to close on Thanksgiving Day: "We love seeing all of our customers—don't get us wrong! But we feel it's more important for all of our employees to be able to spend this holiday with their families, in order to recharge and renew and come back to work ready to take on the holiday season!" They're taking the same stance this year.
19. Office Depot
"As we evaluated our store hours for this holiday and weighed the business and personal considerations, we decided it was best to provide our associates with the day off to spend time with family and friends by closing our retail stores on Thanksgiving Day," Office Depot's former COO Troy Rice said in a 2016 press release. They're doing the same this year as well.
20. Office Max
OfficeMax, owned by the same company as Office Depot, will also be closed this year.
21. Sam's Club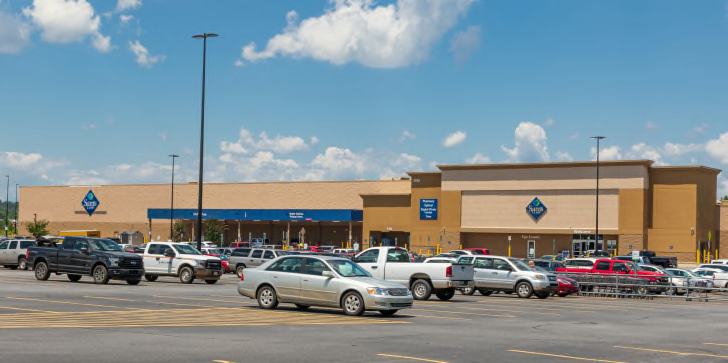 According to a spokesperson, Sam's Club is traditionally closed on Thanksgiving, among other holidays, so that employees can spend time with their families.
22. Burlington
Burlington—formerly known as the Burlington Coat Factory—is once again closed this year, according to a representative.
This is just a fraction of the list of stores deciding to stay closed on Thanksgiving. Check out of the full list on BestBlackFriday.com.